The Bob Bergeron Guru Challenge
Congrats Season 7 Winner Nancy Beck
Changes for Season 7 (2009/2010) Pictures will be posted the first Wednesday of the month at 6:15pm, one picture per month, except for holiday weeks.... The first 3 people guessing the picture correctly will get the full 10 points. From that point on the next 3 will get 9, next 3-- 8, 7, 6, 5, 4, 3, 2, and the rest 1 point....THIS SEASON IS DEDICATED TO THE MEMORY OF JEFF FALBE AND SCOTT GLOUDEMANS, TWO FELLOW GURU GUESSERS WHO ARE CHUMMING WITH BOB IN THE SKY !!!!!
Guru Season 7 final point Standings….5/10/10
Nancy Beck---107
Mark Van Grinsven---104
Gary Schmelzer----103
Dave Moderson---96
John Schultz—93
Royce Rossier---62
Keith Vercauteren---57
Brian M. Feit---45
Geoffrey Olmscheidt—44
Joe Osterman---36
Elvis Motorsports—29
Robb Thomson---28
Dan Wynboom—19
Keith Krake---17
David Buchwold—7
Schoffs----6
PLEASE CLICK BELOW TO SEE PAST RACING PHOTOS FROM THE GLORY YEARS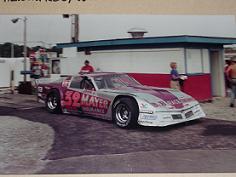 #32 David "LEAD SHOE" Valentyne
#59 "Greasy" Keith Nelson
THANK YOU to everyone who has particpated in this challenge through the years. I am contemplating whether to continue this again for another season or pack it in. I am open to feedback.....
Season One champion--Andy Monday, Season two--Al Gouleke, Season three--Bob Schneider Jr., Season four--Al Gouleke, Season Five-Russ Rieben Season six-Bob Abitz(reminder-you cannot win 2 years in a row)